Purchase High-Quality Parts at Our Ford Parts Center in Geneseo, IL
If you're embarking upon a maintenance, repair, or customization project, you'll need a reliable resource for all your parts and accessories. That's where we come in. At our parts center near East Moline, we offer genuine parts from Ford, so when you shop with us, you can feel confident you're getting reliable and correct parts for your project.
Why Buy Parts at Ed Morse Ford
When you choose to shop with us, you can be sure that the parts we carry were made by your vehicle's manufacturer, so there's no guesswork when it comes to fit and function. If you shop with a third-party seller, you don't have the assurance. Buying the correct parts for your Ford F-150, Ford Escape or Ford Explorer is essential when you're doing an at-home project, not just for convenience but also for protecting your Ford vehicle's performance and longevity.
We are proud to carry a large selection of authentic parts at our Ford parts center near Erie, IL. So whether you need a brand new battery, a new set of tires, a replacement air filter, and more, we will be able to help you.
If you need a little extra help with your repair, our Ford service center technicians are always available to help you out and make the process run smoothly.
Shop Ford Parts with Us Today at Our Ford Dealership near Cambridge, IL
If you know what part you need to get started, please get in touch! You can fill out our online parts request form, and our staff will be in contact with you as soon as possible. Not sure what part you need? That's what we are here for at our Ford dealership. You can give us a call to ask questions or to figure out what specific part you need on your Ford SUV, truck, or sedan. So whether you have a new or used Ford, we can help you find the correct part.
We look forward to helping you out at our Ford parts center serving Orion, IL, and beyond!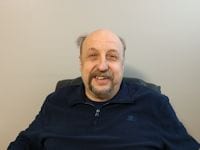 Dave Kaiser
Parts Manager