FORD SYNC®.
KEEP YOUR HANDS ON THE WHEEL AND EYES ON THE ROAD.
Ford SYNC®
Voice-activated phone, entertainment and some mobile apps.
Ford Next Generation of SYNC® voice-activated technology features new functionality designed to help you communicate, find your way around, operate your vehicle and enjoy. Now operating with new software and available larger screens on some models, Next Generation of SYNC is flexible, updatable and configurable to your individual preferences.
SYNC® allows you to use voice commands to make calls, play music, get driving directions, and find other useful information
SYNC® Technology
SYNC® AppLink®


Voice Recognition


LCD Screen


Hands-free Calling


Complimentary 911 Assist®


SiriusXM® Satellite Radio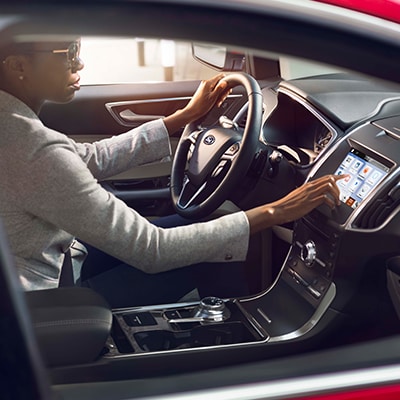 How to Use Ford SYNC®
SYNC uses Bluetooth® wireless technology to pass information between your vehicle and your phone. You can use voice commands and other simple controls-such as steering wheel buttons-to make and receive calls or listen to music.
To use any of the phone features for SYNC®-such as making a call or receiving a text message-you must first connect, or "pair" your Bluetooth®-enabled phone. Pairing is what allows Bluetooth devices to communicate securely with each other.
Once paired, your phone connects with SYNC each time you enter your vehicle, and calls are automatically transferred between your phone and your vehicle without hanging up. After pairing your phone, use SYNC voice commands to make calls, play music, and much more. Be sure to use a phone that's compatible with the SYNC features you want, keep your phone's firmware up-to-date, and learn as much as you can about your phone's capabilities.
Hours
Monday

8am-7pm

Tuesday

8am-6pm

Wednesday

8am-6pm

Thursday

8am-7pm

Friday

8am-6pm

Saturday

8am-2pm

Sunday

Closed